One of the italian noble "B"s, expression of a quality growing land.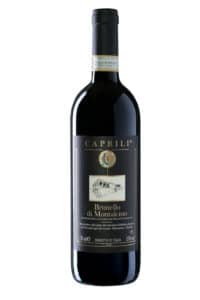 Denomination: Brunello di Montalcino D.O.C.G.
Grape: Sangiovese
Vineyard: 4, 3 of them contiguous near the farm center.
Fermentation: Spontaneous at controlled temperature in stain steel tanks for maximum three weeks.
Ageing: 36 months in big barrels by Slavonian oak followed by 4 months in bottle.
Characteristics: Softer and less tannic of the Brunello Riserva. This wine has an intense color and aromas with ample notes of red berries. On the palate gives a body of great balance with tannins well integrated into the structure, which ensures elegance and longevity.
[showhide type="annate" more_text="Show the Vintages" less_text="Close the vintages"]
2015
2014
2013
2012
2011
2010
2009
2008
2007
2006
2005
2004
2003
2002
2001
2000
1999
1998
1997
1996
1995
1994
1993
1992
1991
1990
1989
1988
1987
1986
1985
1984
1983
1982
1981
1980
1979
1978
[/showhide]